Kornit Digital, the globally renowned industry leader in digital textile printing innovation, has reportedly made an announcement regarding the commercial availability of a direct-to-garment printing system – the all-new Kornit Storm HD6. If sources are to be believed, the company commenced the global shipments of its latest systems on the 1st of October 2018.
Incidentally, Kornit's HD systems facilitate excellent print quality levels and are deemed absolutely suitable for the retail and fashion markets. Currently, this portfolio encompasses the Kornit Avalanche HDK, Kornit Avalanche HD6, and now, the Kornit Storm HD6. The company's NeoPigmentTM Rapid ink that has been particularly developed for Kornit's HD technology, also offers an enhanced hand feel, increased opacity, as well as white ink saturation. Sources claim that the print quality is further improvised on with the help of ColorGATE's Professional RIP solution, that adds advanced color management & screening capabilities, pre-defined color libraries for best color matching, as well as enhanced white base creation.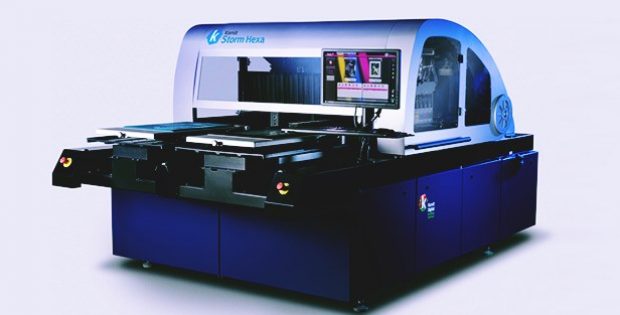 According to an official press release by Kornit Digital, Jim George, CEO, Trevco (seemingly among Kornit's long-term clientele), declared the HD investment to be a no-brainer, while adding that since Trevco brought its first Kornit, it has expanded to an amazing 10 Kornit Avalanche 1000 systems and recently in February, even beta-tested the HD platform, thrilled at the apparent enhancement in quality, specifically within the green and red color spectrum.
George opines that the HD technology has also commendably improved Trevco's design resolution, post which the company realized that it had to apply the technology across its entire fleet.
For the uninitiated, the Kornit Storm HD6 is inclusive of six color channels (Red, CMYK, Green) and white for better spot color matching. Users will easily be able to reproduce the actual colors of licensed sports teams and even precisely coordinate corporate logos. The Kornit Storm HD6 also has the capability to reduce ink consumption by around 30% as opposed to the Kornit Storm Hexa – that is to say, it delivers higher print quality at reduced costs per print.