Co-op, one of the major retailers of the UK, is reportedly planning to replace single-use plastic carrier bags with lightweight compostable alternatives, which can be reused as biodegradable bags for food waste. As per trusted sources, the retailer has been trying to create a stronger version of the biodegradable carrier bags since 2014.
Reportedly, the product will finally be rolled out in nearly 1,400 outlets across England, Wales, and Scotland and eventually will be expanded to all 2,600 shops.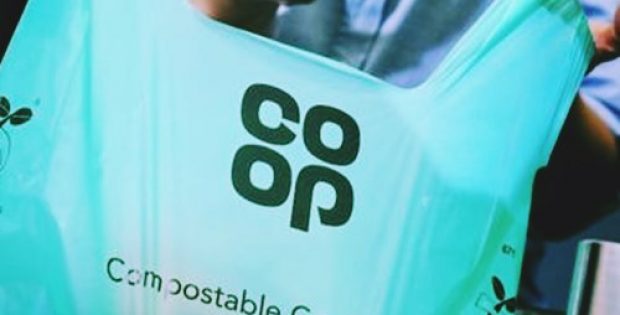 The change will begin in towns, then move on to cities and villages, where the bags can be submitted to the council's food waste collections. The phased rollout is estimated to replace 60 million single-use plastic bags that have become a threat to the environment. Shoppers can grab the new compostable bags for just 5p, but they will also have the option of 10p bags for life and heavy-duty turquoise bags for £1.
According to sources familiar with the development, the initiative is part of a broader ethical strategy which will be launched by the Co-op to tackle plastic pollution, food waste, promote healthy eating, energy saving, and Fairtrade products.
The retailer stated that it will eliminate the use of single-use own-brand plastic products and reduce its overall use of plastic packaging in the next five years and completely stop using non-recyclable materials like black plastic.
Jo Whitfield, Retail Chief Executive of the Co-op, said that the price of plastic-wrapped food products has increased manifold and the Co-op will get rid of any kind of packaging that cannot be reused. Whitfield further added that the launch of compostable carrier bags will be the first step to decrease the use of single-use plastic bags.
Sources state that the supermarket's initiative in removing single-use plastic will benefit the recycling process of its own-brand packaging by 2023. Moreover, the retailer has also promised to include at least 50% recycled plastic in its packaging by 2021.